Stacey will be stepping down at the end of the year for a well deserved break. It will be tough to fill her shoes, but North Texas PGR must have someone to step up do just that. The dispatch position is demanding, but a vital position that is crucial to our success.

Requirements of the position include:
Must be able to correspond professionally via phone and email. You will be dealing directly with grieving family members.

Must work closely with Deputy State Captain and Information Technologies (IT) to ensure correct information is obtained and passed to IT for the Mission Calendar

Must be available to receive requests for our presence. ( Most come via email, which means having reliable email and computer/device and checking it frequently)

Must be able to respond to a request as soon as possible, but no later than 24hrs from the time the request was submitted

Duties include:
The Dispatcher contacts the requester named in the request within 24 hours of the request. Contact should be initiated as soon as possible after receipt but MUST be made within the 24 hours specified on the Presence Requested form.
The Dispatcher contacts a Ride Captain to accept the mission.
Those interested in filling this position, please contact Bryan Read (readrb@gmail.com), Gary Dunn (catfishdunn@gmail.com), or Mark Gravit (putt4dou@msn.com)

Bryan Read
Deputy State Captain
North Texas Patriot Guard Riders
Support Teams or Persons Needed
Posted: 10/12/2016
DFW area PGR Riders, we need additional persons or teams in the DFW area to provide support to our missions. If you have considered or will consider taking that next step in furthering our cause, then please contact Gary Dunn at catfishdunn@gmail.com and lets visit. Thank you in advance for helping is in this critical role.

Gary "Catfish" Dunn
Assistant Deputy State Captain
North Texas Patriot Guard Riders
THE FUTURE OF THE NORTH TEXAS PGR WEB SITE
Posted: 10/07/2016
Since September 1st, 2008, this WEB site and all its associated costs have been donated to the North Texas PGR as an independent effort by a single individual. This includes the Mission Calendar, all the forms used to collect the mission data and other data, mailing lists, announcements, membership history, photograph management, and all the other things you find here. This domain and all its services are not owned nor controlled by the PGR but by this individual with the State Captains and Deputy State Captains knowledge and consent since that time.

This morning, 10/07/2016, this individual gave notice to Leadership that he is relinquishing the Mission Calendar portion of this WEB site so that it can be maintained and supported by more than one person and can be owned by the PGR. A 30-day notice was given with an option to extend that period another 30 days, if necessary.

Somehow, this was interpreted to mean that this individual was intending to retire. This is not the case!! It is understood that this will be discussed at Saturday's Ride Captains Meeting and, perhaps, there will be some kind of announcement. The offer for this individual to continue providing the remainder of the Information Technologies services was made clear, unless it is decided that his services are no longer needed. At that time, this WEB site and the ntxpgr.org domain name will be shut down.

As of this time, there has been

no response

from PGR leadership. 30 days expires on 11/05/2016 - 14 Days

2016 Snowball Express / PGR Volunteer Registration




Posted: 09/27/2016

T H A N K Y O U N O T E S
See Archived Messages At: Letters From 2013 Thru Present
And: Letters From 2008 Thru 2012

From The CDR Thomas Meyer Mission


Mission Date: 10/19/2016
Posted: 10/21/2016
Thank you. What a group of kind, generous patriots. We were all honored. I'd love to have a dollar for all the non-military participants in the ceremony who expressed their amazement at the honor you guys extended to Tom and to all of us. God bless you and your riders.

Tom

From The Dawn Blume Impromptu Mission


Mission Date: 10/18/2016
Posted: 10/19/2016
My name is Vincent Blume. I met you yesterday at DFW National Cemetery. You were a member of the Patriot Guard Riders and joined our family the funeral of my wife, Dawn Blume. Thank You. "thank you" is a pittance for the service you have done for our Family and our departed heroes that have worn the uniform. My children witnessed the honoring of their Mother by total strangers simply because of loyalty and character that would have been an otherwise somber memory. My family salutes you and all Patriot Guard members for their caring and compassionate tone and approach to Dawn's ceremony. Again , Thank You. We will remember the Patriot Guard Riders in our prayers and may God give you safe passage .

From LTC Scott Wilson Service


Mission Date: 09/30/2016
Posted: 10/04/2016
You guys were fantastic. It was a privilege to meet your folks. I'm sorry that I didn't get a chance to have a beer with them. What a great group and honorable undertaking. Honestly, one T H E most selfless organization I've ever encountered.

On behalf of myself, Scotty's support team and his family, thank you!

Be safe and well,
Stan

L O N G T E R M A N N O U N C E M E N T S

Open Carry and The Texas Patriot Guard Riders


Posted: 12/10/2015
Greetings fellow Texas Patriot Guard Riders:

With the soon to be Open Carry Law, we have had several questions about how this will affect the Patriot Guard.

As we understand the law, you must be a licensed Concealed Handgun License (CHL) holder in order to legally carry a handgun in the open.

The Texas Patriot Guard is not in the position to question your rights as a licensed CHL holder. A CHL license holder knows where they are allowed to carry a weapon and where they are not allowed to carry based on the laws.

That being said, we all need to remember that the Patriot Guard are invited guests of the family of a fallen Hero at their most sacred time and we are there to pay Honor and Respect. That respect and common sense needs to prevail. Our missions/ flag lines are not the place to be displaying an open weapon.

The Texas Patriot Guard Riders policy will be that no open carry will be permitted on any mission.

The Ride Captain in charge of the mission does have the authority to ask anyone who is open carrying to remove the firearm and place it out of view, and/or ask the individual to leave the mission if they refuse. This policy is not in any way, shape, or form to infringe on the rights of a CHL holder, but to simply set a higher standard to which the Patriot Guard is known for and presents to our Hero's families at each and every mission.

Thank you all for supporting the Patriot Guard Riders and Honoring our Hero's

Any questions can be directed to me at bstroka@sbcglobal.net

Bobby Stroka
Texas State Captain
Patriot Guard Riders

---

Fellow North Texas PGR,

The PGR policy on Open Carry is just common sense and is not intended to infringe on anyone's rights. I know everyone understands why open carry at PGR missions is not a good idea. It's pretty straight forward that we can't predict how a grieving family, uninvited guests, or the media will react to the sight of weapons openly carried by PGR. Therefore we will simply not take the chance of causing a disruption.

Not so straight forward is carrying openly publicly or at other events while wearing the PGR logo. Please exercise the same common sense with regard to carrying a weapon openly while wearing PGR gear. The simple act of wearing your gear causes the media and others to associate the person wearing the gear to the organization, whether right or wrong. The PGR has always represented a high standard of honor and respect and is seen this way by the public. We don't want the impression to be changed by the sight of "armed" PGR as a result of carrying openly. We all know how the media reports things and how context can be misrepresented. We can avoid any misconceptions by eliminating he opportunity to do so. Please exercise common sense and abide by the PGR Code of Conduct when it come to how others could perceive you while wearing the PGR logo.

Thanks,

Bryan Read
Deputy State Captain
North Texas Patriot Guard Riders
North Texas PGR Windshield Banners
AVAILABLE NOW!!!
Posted: 07/16/2015 - Updated 08/01/2015 - Updated 09/22/2016

Update 09/22/2016

: We have just received a new supply of the inside windshield banners. They were printed on a new machine using a new process. The original versions has a white "bleed" of about an eighth of an inch around the blue outline of the banner. The new versions have this removed, so they now look exactly like the outside banners. The old banners show www.txpgr.org, which now goes to a WEB site that probably contains viruses. You should never visit that address!

The popular North Texas static cling windshield banners

are now available

from

THIS

WEB site as promised!!! The WEB address (URL) has been updated and there are now two versions of this banner available. The first version is the same size and shape as you see on many of our motorcycle's windshields. The second version is reverse-printed so they can be placed on the inside of windshields where they are protected from the elements, bugs, and cleaning. The ink is on the opposite side of the clear material so there is no contact and no transfer of ink to the windshield, and they will stick to the inside of the windshield by static electricity. They are relatively small and can be left in place on the windshield or they can be removed between missions.

The price is similar to what they have been in the past, but now you will be able to order them on this WEB site and have them mailed to you or, in some cases, have them delivered to you at a mission. There are extra costs to ship them. If you order them on line, you can use your credit card, but the price MAY be adjusted to cover the service charge. If you pick them up in person, you may pay in cash or by check. Garland "PAPA" Raney, whom you see on many missions, will carry a supply for sale. See pricing below. Any profits from these banners will deposited in the respective PGR bank accounts and used to support our Mission Statement. This is NOT a private, for-profit venture.

We expect our first supply of these banners will go quickly, but we will do our best to keep them in stock. For now, to order, please send an E-Mail to

Harold@ntxpgr.org

stating:

1. Which type you want (inside or outside)

2 How many of each

3. Your COMPLETE mailing address. They are sent by US Mail if shipped.

If you do not want them mailed, suggest an alternate method and we will discuss that by E-Mail.

4. You will receive an electronic invoice by E-Mail. Please watch for this E-Mail from

"

North Texas Patriot Guard Riders via PayPal

" and pay as instructed. We, the providers of this WEB site, do

not ever see your credit card information. Your credit card E-Mail and statement may reference TeleHobbies, Inc.,

as he payee (the providers of this WEB site and PayPal interface).

5. If you have any questions, ask them in this ordering E-Mail for tracking purposes. You will not be billed until your questions

are answered, so be sure to check back quickly. Your order will not be shipped until the invoice is paid!

TODAY'S PRICING:

| | |
| --- | --- |
| Normal Static Cling Windshield Banner: | $13.00 |
| Reverse Print Static Cling Windshield Banner: | $15.00 |
| Shipping and Handling: | $ 5.00 |
| Transaction Charge - FREE Today! | $ 0.00 |

Facebook Page Launched By North Texas Deputy State Captain


Posted: 07/17/2015
Fellow North Texas PGR,

A Facebook business page has been launched and you are invited to visit it. Please note that the purpose of this page is purely social. NO MISSION INFORMATION WILL BE POSTED ON THE FACEBOOK PAGE. Please continue to use the North Texas PGR WEB site and Mission Calendar for your one and only trusted source for mission information.

The Facebook page will be used for non-mission information, events, etc. We sometimes get invitations to events where Riders may wish to participate, but due to the work required, calendar space, and other considerations, we may not be able to post them on our WEB site. This gives us a place to post them where you can view them. It can also be used when we have events such as Meet and Greets. Events on Facebook let everyone choose if they are coming or not and let others view who's coming. I'm sure there are other possibilities, but bear with me as I am a Facebook rookie.

Check it out by logging onto Facebook and searching for North Texas Patriot Guard Riders. Save as one of your favorites for easier navigation and hit the "like" button as well.

Thanks,
Bryan Read
Deputy State Captain
North Texas Patriot Guard Riders

[NOTE: The providers of our WEB and Information Technologies are not associated with any social media pages. Anything posted there is strictly an independent venture. For information, contact the provider of those pages. We have never required our Riders to log on to anything, set up accounts, or supply personal information, nor do we share any information other than what is posted on our WEB site, which is privately hosted and VERY secure.]

Purchases From Amazon Smile Earn Donations For PGR of Texas!


Posted: 05/14/2015

This is

NOT

a free advertisement for Amazon! This is simply letting PGR members know that, if they make purchases from Amazon in a specific way, Amazon will donate a portion of your purchase (0.5% of the purchase price) to the Patriot Guard Riders of Texas! It may not sound like much, but added together, could be a significant amount of money. The donations go to the Texas State Bank Account, not to any particular region.

The next time you intend to make a purchase from Amazon, go to

http://www.smile.amazon.com

and put your selected items into your cart as normal. Not all items qualify for the donation, but those that are should be marked "

Eligible for AmazonSmile donation".

On your first visit to AmazonSmile (smile.amazon.com), you should select "Patriot Guard Riders of Texas" to receive donations from eligible purchases before you begin shopping. They will remember your selection, and then every eligible purchase you make at smile.amazon.com will result in a donation.

If you have any questions about this process, please contact

Harold@ntxpgr.org

. Remember to go to smile.amazon.com and not amazon.com. Click on

more information

for additional documentation.

M i s s i o n A n d W E B P a g e S u m m a r i e s




The above Mission Calendar and all similar monthly calendars that have appeared on this WEB Site since August of 2008, are copyright© TeleHobbies, Inc. TeleHobbies, Inc. retains the ownership of this WEB Site as well as all Information Services it encompasses, which includes, but is not limited to, this page and all subsequent pages, Final Itinerary format, Mission Report format, and forms used to create these reports, membership management, and donation collection and management are included. This is provided at no cost to the North Texas Patriot Guard Riders, but the intellectual property remains the property of TeleHobbies, Inc. Photographs and video productions remain the property of their respective photographers.

LATEST CASUALTIES REPORTED IN OCTOBER OF 2016


3

AMERICAN PATRIOT REPORTEDLY HAVE DIED THIS MONTH DEFENDING OUR FREEDOM

Branch:
NAVY
Age:
34

Country:


Iraq
Information Released: .
October 21, 2016 .
The Department of Defense announced today the death of a sailor who was supporting Operation Inherent Resolve.

Chief Petty Officer Jason C. Finan, 34, of Anaheim, California, died Oct. 20 in northern Iraq, of wounds sustained in an improvised explosive device blast.

He was assigned to Explosive Ordnance Disposal Mobile Unit Three.
Branch:
ARMY
Age:
26

Country:




Afghanistan

Information Released: .
October 20, 2016 .
The Department of Defense announced today the death of one soldier and one Department of Army civilian employee who were supporting Operation Freedom's Sentinel.

Sgt. Douglas J. Riney, 26, of Fairview, Illinois, and Michael G. Sauro, 40, of McAlester, Oklahoma, died Oct. 20 in Kabul, Afghanistan, of wounds received from encountering hostile enemy forces.

Riney was assigned to the Support Squadron, 3rd Cavalry Regiment, 1st Cavalry Division, Fort Hood, Texas. Sauro was assigned to the Defense Ammunition Center, McAlester Army Ammunition Plant, McAlester, Oklahoma.
Branch:
ARMY
Age:
31

Country:




Nangarhar Province, Afghanistan

Information Released: .
October 05, 2016 .
The Department of Defense announced today the death of a soldier who was supporting Operation Freedom's Sentinel.

Staff Sgt. Adam S. Thomas, 31, of Tacoma Park, Maryland, died Oct. 4 in Nangarhar Province, Afghanistan, from injuries caused by an improvised explosive device that exploded during dismounted operations.

The incident is under investigation.

Thomas was assigned to Company B, 2nd Battalion, 10th Special Forces Group (Airborne), Fort Carson, Colorado.
Tuesday March 22, 2016
Time: 18:30 PM
Location: Veteran of Foreign Wars Post 2494
Address: 1333

1045

S. Belt Line Road

****


Grand Prairie, TX 75050


https://goo.gl/maps/Xkrs99GFut52


Latitude: ; Longitude:

32.801802, -96.997782





****

This address gets you to Mid-Cities Skateland. Turn between the big Skateland sign and the small VFW 2494 sign off of S. Belt Line Rd. Proceed on the drive past Skateland up the hill to VFW 2494. The published address for the Post is incorrect.

Follow the signs

.
The North Texas PGR Information Booth Will Be At
Dallas Harley Davidson
Salute To Our Brave Defenders
1334 West Centerville Road
Garland, Texas
On Saturday, May 23, 2015, From 11:00 Until 15:00
Experienced PGR Members Are Needed To Help Man This Booth And Explain The Patriot Guard Riders To Prospective Members. To Volunteer, Please Contact Sue Or Howard Griffiths At:

National Pay It Forward Day
Click On The "Pay It Forward" Link On The Calendar Or Anywhere Below To Donate.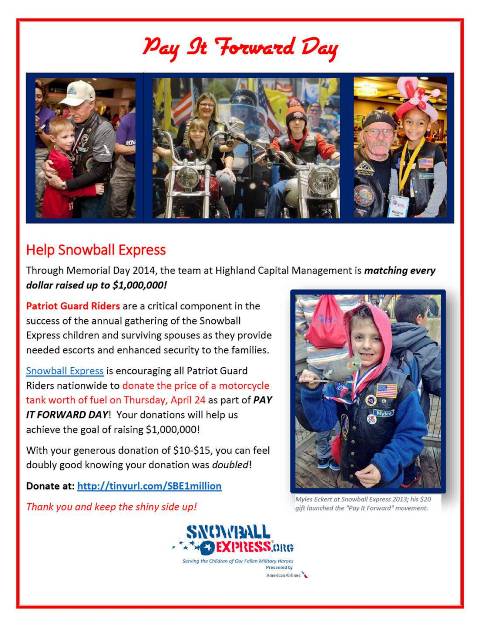 VA Bus Escort to MOH Parade

NO BIG FLAGS. WE WILL RUN AT HIGHWAY SPEEDS!

Come join us April 9th, 2016, in escorting a bus load of Veterans from the Bonham VA Facility to the MOH parade site in Gainesville.

Escort is open to all who would like to be part of this escort. Participants ride at their own risk.

0800: Riders are asked to start escort at Bonham VA facility and escort the bus along Hwy. 82. Bonham location: https://goo.gl/maps/SbQe29vm89y

0815: KSU to Sherman area for second leg.

0835: Merge with second group west of Sherman at west access road at Hwy. 289 and Hwy. 82. Sherman area: http://goo.gl/maps/gb1yW

0855: Merge with Whitesboro group at westbound on-ramp at Chevy dealership. Whitesboro area: https://goo.gl/maps/hpZsyxSdYom

0915: When we enter Gainesville, we will enter from Hwy. 82 to the courthouse area on California Street. At which time bus will unload VA personnel and all riders will park their bikes in and around the courthouse.

Remember the 1st rule is safety. Anyone not acting in a safe manner will be asked to leave the procession.

Thanks,
Carl Feltner
903/819-6227
cfeltner@cableone.net
MISSION REPORT 10/06/2016
Spc4 Bem Tucker


DFW National Cemetery
Approximate Number
Of Bikes:
22
Approximate Number
Of PGR People:
24
Approximate Number
Of Cages:
4
Weather Conditions:
Warm, mostly sunny.

We gathered at the visitors center at DFW National Cemetery, mission briefed, and stood tall and silent as we honored Spc4 Bem Tucker. We were joined by men and women of DART who so graciously donated money to be able to have Spc4 Tucker properly honored. We were all there to honor him on his last trip home. God rest ye, Bem Tucker, be thou at peace.

Thanks to everyone in the PGR who joined this man as his family for his final ride home. Thanks as well to the DART employees who cared so very much, helped with donations, and came to honor a man they never met.

Respectfully,
Mark Littel
Ride Captain
MISSION REPORT 10/08/2016
Franklin Drew Umholtz
Untied States Army Reserve


Charles W. Smith and Sons Funeral Home in Sachse
Approximate Number
Of Bikes:
4
Approximate Number
Of PGR People:
6
Approximate Number
Of Cages:
1
Weather Conditions:
Sunny and breezy.

Mission accomplished. Riders staged at Charles W. Smith Funeral Home in Sachse. Flags were staked and, after the mission briefing, the riders manned the flag line and stood "tall and silent" while family and friends arrived for the service. A Certificate of Appreciation was presented to the family prior to the service. When the service started, we returned the flags to the support vehicle, riders were debriefed and dismissed. An Army Honor Guard was present to provide military honors during the service. Thanks to Barbara Wiggins for providing flag and photo support for this mission.

I want to thank the family for inviting us to stand "Tall and Silent" to honor Franklin's service to our nation. His sacrifices will not be forgotten.

Respectfully,
Jim Wiggins
Ride Captain
MISSION REPORT 10/18/2016
Dawn Blume
Impromptu Mission
United States Marine Corps


Dallas Fort Worth National Cemetery
Approximate Number
Of Bikes:
25
Approximate Number
Of PGR People:
30
Approximate Number
Of Cages:
5
Weather Conditions:
partly cloudy, warm.

***MISSION ACCOMPLISHED*** The Patriot Guard Riders were approached at the Visitors Center by Mrs. Blume's husband, Vince, and asked if we would honor his wife's memory at her interment service. This was 30 minutes prior to the start of our scheduled service for a Veteran with no family. As always, a group of Riders agreed to cover this impromptu service for a Marine Corps Veteran. Bill Kushnir was the Ride Captain at the scheduled service and briefed the Riders that Mrs. Blume's family was now our priority and all of the Riders stood Tall and Silent at her interment ceremony. Special thanks to Erna for taking photographs and to all of the Riders who quickly reacted to ensure this Veteran was honored and her family comforted.

Vince - there are no words of comfort that anyone can give at a time like this, other than we are so very sorry for your loss. Thank you for allowing us to be a part of celebrating her life and know that all of you remain in our prayers.

Respectfully,
Rick Crabb
Ride Captain
MISSION REPORT 10/18/2016
Delbert L. Helms
2 years Army-4 years Navy


Cornerstone Funeral Home and
Hillcrest Garden of Memory In Hillsboro
Approximate Number
Of Bikes:
1
Approximate Number
Of PGR People:
2
Approximate Number
Of Cages:
1
Weather Conditions:
.

John Watts and I staged at Cornerstone Funeral Home in Hillsboro, Texas. As usual, his flag line was perfect. Got several comments from family and guests as they arrived. Sad that there was no one to stand in it. As soon as the service began, we pulled the flag line, returned them to the truck, and moved to the interment site, where we reset it. We rendered honors as the procession arrived. At the end of the service John and I folded and presented the flag to the wife. At this time there was a flyover by a local crop duster trailing smoke. We then returned the flags to the truck and were dismissed.

I wish to extend a very grateful "thank you" for asking us to be a part of honoring this true American hero.

Respectfully,
John "Ghostrider" Blase
Ride Captain